Back to the Future Part II introduced us all to the year 2015 a bit early, and our timeline now seems off, because Nike's self-lacing shoes look awful.
How can a pair of stylish, futuristic, and sharp shoes, conceived in the 1980's, fall so utterly short in the final design that is about to emerge 31 years later?
Ask Nike.
The model name for the new sneakers is The Nike HyperAdapt 1.0, and the shoes are said to have a far more futuristic sounding and innovative label than self-lacing; they have adaptive lacing.
Prepare to spend in the hundreds of dollars for a subpar design.
You step into the shoe and your heel hits a sensor that tightens the laces automatically.
If they are too tight or loose, you can press a button to adjust them accordingly.
And Nike, to appear oh so slick and hip, included the buttons right on the side of the shoe in the form of a "+" and a "-" sign.
Couldn't Nike have just as easily hid those buttons and made them easier to find with the hand by placing them on the inside of the tongue of the shoe?
I mean, really?
You put plus and minus sign buttons on the side of the shoe, as if it is a remote control for your car stereo!
The tongue is easy to find in the dark.
I enjoyed not having to look down as I coolly pumped up my "pump" high tops in the 80's by squeezing the tongue. I looked badass as a skinny string bean of a kid heading out onto the basketball court.
The innovators at Nike must have been too busy making the Nike Anti-Clog Traction, a mud-beating polymer, to pay any attention to the design of a product that sneaker wearers have yearned for for decades.
Thankfully not all of the shoes appear to have the visible buttons on the side, but the cheap looking mesh and the rudimentary look leaves a lot to be desired.
The shoes that Nike made for Marty (in the 1980's folks) would look amazing just as they were back then.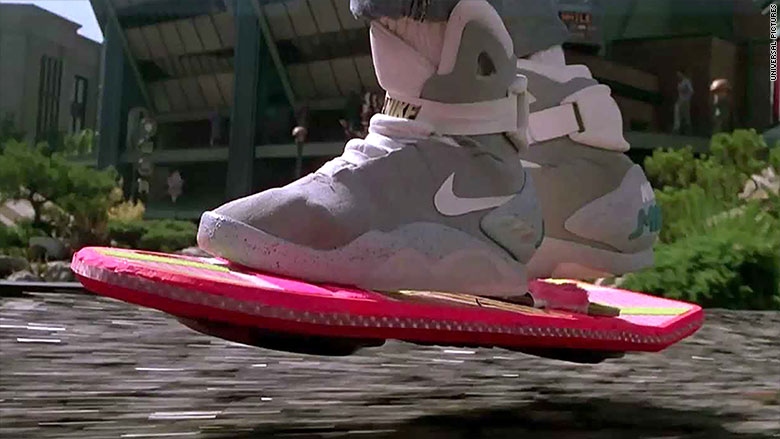 Why is Doc Brown so upset?
With more and more of these mutated versions of events that keep cropping up, we may have already erased ourselves!